Reviews for Top Rated Dealer in Phoenix AZ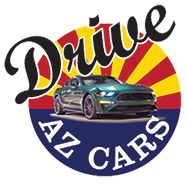 "
Easy buying experience at a fair price.
"
I really enjoyed my experience with Darin, Tyler and Mike. I was in a rut and needed a car ASAP. DARIN was completely professional. He asked the right questions and sat me down. Having listened to my needs, insisted he had the right car for me and man…. I was blown away! Don't pass up smaller dealerships because they are a diamond in the rough. I sold cars for years. Sooo you can imagine my Leeriness. I can tell you they made my experience fun and easy. I was in and out within an hour or so. Next time you're looking for a reasonable priced vehicle. GO TO DRIVEAZ. I FELT RIGHT AT HOME AND CAN CONSIDER THEM LIKE FAMILY. THEY LISTEN AND CARE. PLUS NO HAGGLING. OR PRESSURE. THEY ARE TRULY AMAZING PEOPLE. THANK YOU GUYS AGAIN!!
"
I went in to Drive AZ as a first time buyer with questionable credit history but I had my eyes set on a lime green 💚 Scat Pack Challenger...I spoke with Tyler and after checking my credit he told me it was going to be a challenge but one he was up for he said he expected to be on the phone for 3 or 4 hours twisting the arms of banks...the whole next day I was receiving credit alerts showing that true to his word he put several hours into making this happen for me and at payments I can more than afford...thank you Tyler and everyone down at Drive AZ... I love this car!!!
Apr 9, 2022,
Shelby A. C.
"
great group of people will go out of their way to help you get the vehicle you were seeking. A hidden gem!! Dont let the small size fool ya its in fact a decent size operation they have there.
"
If you need a car this is the place to go! Excellent service, Steve and Darren and the entire office staff were very professional, courteous and helpful! We walked in not expecting to find anything and left in a matter of hours with a new truck that we love! Would definitely recommend this dealership if you need a car!
"
Steve Gaines of Drive AZ Cars has sold me two great cars, and has a long track record of integrity with 40 years in the business. I would recommend Steve to anyone who is in the market for a car.
"
This is a fantastic dealership. Very trustworthy, competant, knowledgeable, friendly, and committed to customer satisfaction. I highly recommend this business.
"
This place was fantastic. Carlos was our salesman and he was so helpful. He answered all our questions and those he didn't know he sought out the other salesmen to help. The vehicle I purchased was exactly as described. The entire process was easy and hassle free. They even let me bring my dog in the building and offered her water. Great people in my book. I will recommend them to everyone I know and have them ask for Carlos. Thank you Drive AZ Cars. We need more dealerships like you.
"
Lou was awesome ! He got me in my car right away I love and and thankful for everything . If you go for a car make sure you go to Lou
"
This is my 2nd time buying from them and they're just as amazing as ever! I bought a hyundai tucson 2010 4 years ago then I was hit by a car! Since that car took the hit Luke a Champ I wanted another one! They were able to get me another hyundai tucson just 5 years newer!! Financing with Tim was amazing as always! I'm be forever grateful tothem and will recommend them to anyone!!
"
Never got such excellent service. Steve and Darren were exceptional and helped so much with my personal needs. Thank you for a wonderful car and making a life changing event happen in my life.If you're looking for a car Definitely Choose Drive Arizona cars. 5 stars
Dec 29, 2021,
Laurie J. D.
"
Great spot! Great customer service! Thank you so much for a smooth purchase of a car I've been looking for!
"
Great place to buy a used car!
"
Had a absolute awesome time dealing with Darren. I test drove 10 cars before we found the right one!
"
They are an awesome dealership. They got me into a Chevy Volt that saved me $900 a month in gas. Ask for Steve!
"
Great business and people
Oct 23, 2021,
Nicholas R. C.
"
Great place to buy used cars! Steve, Darren and Tim our the best. Great guys and service. You tell them what your looking for and they will find it!:)
"
Drive AZ Cars looked hard for the car I was looking for and helped me get into it at a price I could afford! Steve, Lou and Tim are wonderful! You can walk into the Office anytime and feel like family! This was our third vehicle purchase from them and will be making more in the future! THANK YOU, DRIVE AZ CARS!
"
Finding myself down on my luck and in need of an reliable car I took a chance on Drive AZ CARs and I was not expecting the service that I received. I was introduced to the manager Steve Gaines and from that point I was treated with the upmost respect. I found an affordable and most important, I purchased a very reliable sweet ride and I left with a smile on my face. I give Drive AZ Cars five stars and I recommend everyone pay this customer service related business a visit. You will be extremely satisfied as was I.
"
Great purchasing experience. Darren was forthright and honest. He was indeed ready to do what needed to be done to sell car. Nice atmosphere as well. Be confident. They do a great job. Thanks.
"
As a auto shop owner for 39 years I've had a lot of independent auto sales company's that I have done auto repair and service for.This auto sales company "Drive AZ Cars " by far goes. out of it's way too please and Deliver the best used cars to it's customers that l have ever seen....Ron Anderson. .ANDERSON AUTO SERVICE INC
"
fast and friendly service made the whole process easy and simple
"
Great place to buy a car. Great people that work there, very helpful
Sep 17, 2021,
Lehsee L. G.
"
I recommend whoever looking for vehicles, come to DRIVE AZ CARS asked for see steve and Larry, if you have down payment issues, they will help you, Not only that.they have a amazing detail guy clean their cars look like new, and they take full respond their vehicles and safety, before your drive out the lot.
"
Friendly car guys with good deals.
"
Well today was the best at buying experience I've ever had. No pushy salesman, as a matter a fact my salesman Lou this dude's a giant in my book he's stuck with me since Feb of this year he'd call every once in awhile tell me what he had to offer an id mae an appointment an never show up to embarrassed that my credit score was to low. But this time I said oh well if they laughed at me it was my fault. Lou had a great woman come an pick me up we got there she told me who to look for now Lou an I have talked all this time but never met in person. We met for the first time He treated me like family as if we've own each other since childhood we went over my options told me e had just the vehicle for me after the test drive he was right a perfect match .The rest of the process was just like I was great finance dept was great he left nothing to guess work by me explained everything. People if your looking for a sraight up dealership give Drive Az a call they are Second to none especially Lo
"
the best dealer on phoenix
"
This was such an excellent experience! Steve Gaines is Top Notch! It was such a pleasure working with him to buy the car that I wanted. Would totally recommend Drive AZ Cars!!!
"
Absolutely love this place well recommended
"
- Great customer service friendly and definitely recommendable.
Powered by
Dealer Car Search
Disclosure
The reviews displayed may or may not be a complete set. Reviews may be removed if they:
i. Are abusive. An abusive review or comment is one that makes personal attacks, threatens, or harasses others, or uses profanity.
ii. Violate privacy. Reviews that mention specific names of individuals or personal information in a manner that is inappropriate and/or unrelated to the performance of the service rendered are subject to removal.
iii. Are not from a current customer.
iv. Contain material falsehoods.
v. Are deemed inappropriate.
To encourage all feedback, positive or otherwise, an equal incentive for reviews, regardless of rating, may have been provided to the reviewer.
Facebook reviews provided via APIs https://developers.facebook.com/