Reviews for Top Rated Dealer in Phoenix AZ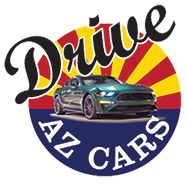 "
Lou is the sales rep that helped me when I purchased my 2016 Kia Sorento. Chistopher was the one who got me approved with a 12.99 percentage rate on the loan and told me Tim would be in and try to get me a better rate in my mind I thought okay well just see. I did get a call back within a few days from Tim and sure got me a better rate he got me a 8.99 percentage rate on my loan and I really do appreciate that. They are Friendly, Honest and will make sure your happy. Thank you guys!
"
Great place to purchase a vehicle. Everyone worked with us, and was friendly. Very low pressure environment. The gentleman who helped us Chris Olson was amazing.
"
Enjoyed my experience and bought a nice car
Jan 21, 2023,
Jonathan M.
"
Drive AZ Cars is really a great place with people who want to help you. It's one thing to buy a used car and have to worry about all of the details like parts being scrapped or missing, but Steve always makes sure the cars are in the best condition before they head out. Even if there's a problem later on, he offers repairs in-shop, which is really convenient.
"
Great service when buying a car from them, very flexible and willing to work with you on anything. Highly recommend
"
Craig took excellent care of my car while delivering it to me! My overall experience with these people has been positive and very caring. Great dealer!
"
I would definitely recommend DriveAZcars if you are looking for a great used car. Tom helped us from the beginning until the end to find a safe , reliable car for our daughter. He was kind , honest , knowledgeable and patient. These are honest people.
"
I would definitely recommend DriveAZcars if you are looking for a great used car. Tom helped us from the beginning until the end to find a safe , reliable car for our daughter. He was kind , honest , knowledgeable and patient. These are honest people.
"
Very nice family oriented dealership. A+++ Do yourself a favor, go here and get treated right!
"
I recommend darren great guy!
"
Wonderful to work with these guys. I gave the owner the details of what ibwas looking for and he searched and found the truck that fit all my needs.
"
I helped a friend get into a car before doing so, we did our research on so many dealerships after a couple days of car searching she found her DREAMCAR here at this dealership. After communicating with the dealership they finally convinced us to come in. The management was so awesome went above and beyond to pick us up 20+ miles away. Darren was EXTREMELY NICE & awesome made this experience good, as well as Stephen. Again thank you stephen, Darren!!
"
I Just Recently bought a mini copper , & Stephen and Darren have been so kind to make sure I walked out with my dream car I definitely recommend them .
"
Hi my name is Frida Perez , I just recently bought a mini copper , Stephen and Darren were so kind and generous to work with me . They went above and beyond to make sure I was able to get my dream car. Thank you
"
Talk about a great experience found a very hard to find vehicle and Darren and Steve are absolutely wonderful to work with. They also got me a fantastic finance rate and term. I highly recommend Drive Az Cars !
"
Larry, Mike, Tim and Keith were all three INCREDIBLY helpful throughout the entire process start to finish. They gave me more than any other dealership was offering for my used car and gave me a GREAT deal on my new one as well!! Effortless process from start to finish. Trustworthy car lot.
"
I had a few issues with my car anf decided to bri g in for some service work. The quote i got from the service department so low i couldnt believe it!!!! The other places i took my vehicle seems like they wanted to retire off my service, they were upfront and honest, my recommendation is to bring your vehicle in and having the service done here
"
I brought my car here and took it in for service and my mechanic William did so good he deserves a five star and the whole service department. I recommend taking any vehicle to them.
"
I found a great car at a great price at Drive AZ Cars. I was looking for a car to use to teach my boys how to drive, and I found a much better car than I expected. Darren took great care of all the details of the transaction.
"
We went Drive AZ to purchase a car. Lou was very very helpful and friendly. He listened to our needs and guide us to a Mazada CX9. I recommend Drive AZ if you are looking for a great car and see Lou he is the best. Thanks Lou!!!!
"
driveazcars are the best, I had the best experience with my Car purchase, the Owner Steve really took time to explain all the financial details to me in a very honest and helpful way, I know his help made it possible to get a great car at a great Price and intrest rate. Thanks Steve. They also have a great service team for oil changes and other maintenance needs for your car there. I'm thankful for there help, could not have bought my car at a better dealership. Danny P.
"
For a first time buyer the process was quick an easy! Tyler did a great job of getting us the perfect interest rate, and got us the monthly payment that works best for us. Would definitely recommend buying cars from here! I'll definitely being coming back in the future.
"
Very fast and great experience!! I got approved as a first time buyer with no credit with a great interest definitely coming back!!
Sep 9, 2022,
Stephanie M.
"
These gentleman are amazing!!! They helped me buy my first car and worked very hard to get me on my way!
"
From customer service to customers satisfaction a great place to shop for a automobile 🚗
"
Service is above and beyond expectation. I was able to get a beautiful car within my budget. They truly care about their customers. Awesome dealership!!!
"
Steve and his team really go above and beyond.! I have used him on many transactions and I have never been disappointed! He is a man of integrity and a professional! I highly recommend him.
"
Highly recommended !! Peter Worth will treat you like family and help along the way. There is no better place to go if you need a vehicle, thanks Peter and all Eemployees
"
I was looking for a new ride. Peter Worth found me just the vehicle I was looking for and at a super price. I recommend him to all my friends!
"
My best Car Buying experience ever . Pete Worth is the Man He made Our Car Buying experience AMAZING! No buyers remorse here. Thank You! Ill be back & definitely tell everyone about our experience . Big Thanks to Mr. Pete Worth. Sincerely Mr. ARCHULETA
Powered by
Dealer Car Search
Disclosure
The reviews displayed may or may not be a complete set. Reviews may be removed if they:
i. Are abusive. An abusive review or comment is one that makes personal attacks, threatens, or harasses others, or uses profanity.
ii. Violate privacy. Reviews that mention specific names of individuals or personal information in a manner that is inappropriate and/or unrelated to the performance of the service rendered are subject to removal.
iii. Are not from a current customer.
iv. Contain material falsehoods.
v. Are deemed inappropriate.
To encourage all feedback, positive or otherwise, an equal incentive for reviews, regardless of rating, may have been provided to the reviewer.
Google reviews provided via APIs https://www.google.com/+/policy/embedded-content.html
Facebook reviews provided via APIs https://developers.facebook.com/