Reviews for Top Rated Dealer in Phoenix AZ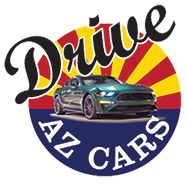 "
I would buy from these guys again. My sales guy Peter Worth and the finance guy Mike were great. No game and no tricks, just great customer service.
"
Peter Worth my sales guy and the finance guy Mike were Great. No games, No tricks. I would buy from them again.
"
I was helped today by Peter the director of Drive AZ Cars Risk Department. He was empathetic and very helpful with my situation and got me in my car. I was very happy with my experience overall:)
"
Love the customer service helped get the best far for me and everything is running efficiently z cs
"
They helped me with getting into a nice suv very helpful and easy with it would definitely recommend great ppl Tyler and Steve and lou
"
I had a great experience buying this car today, everyone was respectful and helped if I had any trouble!
"
My first time buying a used & it was not what I excepted. The car was clean, in good shape & doing good as a brand new one. Definitely will be buying another car soon
"
Danny Livas got me into a super sweet Charger! Definitely ask for him when you go for your next car purchase🙌🏼💪🏼
"
Was looking on market place for 2 days trying to find a low mileage truck for a good price, decided to give Drive AZ Cars a call. MR.Danny pickup up the phone and could have not helped me more dude is amazing he will get you a good deal/ in and out in no time check over their inventory and call DANNY today !
"
I have been on a couple of vacations this summer with my 3 small children. They spilled and dropped food everywhere. Anderson cleaned my van and it was clean and sparkling like it was brand new. He has great customer service and I would use him again.!!!
"
I had the best services at this place. For all the wonderful customer services and to my server Tre for taking care of me.
"
This has been the best service I have gotten since I move here. I think the guy who served my car name was Tre
"
I had Darren and his brother Steve and they were wonderful people they took care of anything and any concerns I had with the vehicle they are wonderful people to deal with I am very happy and I paid cash for my vehicle by
"
My salesman, Andy is the best. He went above and beyond to get me into a car. The paperwork process was smooth and done quickly. I have zero complaints.
"
I am fond of Andy, my salesman. He went above and beyond to get me into a car and the paperwork was quick to complete. I have no complaints.
"
2002 Nissan Frontier runs especially fantastic and was cleaned up and detailed handsomely and impeccably by Jovan the detail manager!
Jul 26, 2022,
Elizabeth H.
"
Tyler and Darren were amazing. If you need help and want a great car come see them!!
"
Peter worth: was great help me buy my 2015 Chevrolet Suburban in just one day…. I didn't believe it until he hand me my keys…..thanks Peter, now I know you guys are the best and only auto dealership out there…….that stand by their words…..when drive Az say one day or same day sale it's same day or one day sale…...folks …….they don't play around and waste customers time they…..lived by their words…… thank Pet……
"
Tre does great work detailing my vehicles! Between 2 kids and 2 dogs our cars can be rough and he makes them look new!!
"
I came in and purchased a 2015 Yukon everyone inside and in finance was amazing but my salesman Peter worth went above and beyond came to my house sat with my wife in her home office while she was working to show her the car to make sure she would love it he gave her a complete vehicle breakdown and physical demonstration and as well as assisting me in bringing my trade ins to the store if need to buy a car always make sure your salesman is Peter worth he is amazing thank you.
"
Tyler was amazing, my kid is so happy with her car. Couldnt have asked for a better experience.
"
I got my SUV from them the salesman Keith Helped me to get in a 2009 Lexus RX-350 for $14.000 bye that being said they can help you get in aCar or a SUV .Very good prices and great deals
Jul 19, 2022,
Michelle R.
"
So impressed! I'm a mom of 2 young kids & we camp almost once a month; I really didn't have much hope for my car. But Stacy definitely proved me wrong. His great attention to every detail is why I will now be a regular. I felt like I was driving off the lot with a new car! 10/10 recommend Stacy!
"
Awesome!! Very happy with the outcome and Stacy in detail was an absolute gem! Took care of all my major concerns leaving me with a smile on my face and a car I was proud to drive
Jul 16, 2022,
Christopher O.
"
I started work for this organization and Steve Gains… I was put into the finance position replacing a person Steve thought was not going to return due to health issues. Thankfully he got healthy enough to return and It was explained to me this gentleman Tim was there for him and offered me a nice severance check to allow him to return…. Totally understand and love loyal people…. I hold Mr. Gains in high regards, consider him a friend and I highly recommend buying a vehicle from them… thanks Steve…
Jul 14, 2022,
Ali-Marcus S.
"
Very friendly and good service overall. Tre did a great job detailing my truck. This was my first time having it detailed since I got it and he made it look like it just came off the showroom floor. Highly recommend and will definitely return.
"
For a smaller family owned dealership, this one is great! The staff is professional, courteous, and ready to help even if it's just with a cold bottle of water. My favorite part was seeing the shine on all the cars! The detailer, Anderson Cotton, really does an amazing job!
"
Super professional and quality work, I would recommend to anyone. Tre did a great job on my SUV. I will definitely come back every month to have him do my vehicles!
"
Such up beat, kind and courteous workers that truly and absolutely do outstanding work Mr. Anderson Cotton is a hard worker.
"
Steve, Darren and the team did a wonderful job of finding a car for me and my family. They found a solution to every obstacle and were there for us immediately for any question or concern after purchasing the vehicle. They have a wide range of vehicles for any budget and the customer service has been outstanding. I will definitely be going to them for my next car and would highly recommend to anyone looking for a new ride.
Powered by
Dealer Car Search
Disclosure
The reviews displayed may or may not be a complete set. Reviews may be removed if they:
i. Are abusive. An abusive review or comment is one that makes personal attacks, threatens, or harasses others, or uses profanity.
ii. Violate privacy. Reviews that mention specific names of individuals or personal information in a manner that is inappropriate and/or unrelated to the performance of the service rendered are subject to removal.
iii. Are not from a current customer.
iv. Contain material falsehoods.
v. Are deemed inappropriate.
To encourage all feedback, positive or otherwise, an equal incentive for reviews, regardless of rating, may have been provided to the reviewer.
Google reviews provided via APIs https://www.google.com/+/policy/embedded-content.html